History of the Helmet
American professional football has a long, storied history. Over the past century, the football helmet has evolved slowly and steadily from a rudimentary piece of padded leather, into the hard-shell-and-facemask design of today.
However, the football helmet has become more than just a piece of safety equipment. As an object, it stands out as one of the most impactful icons in sports—symbolizing aggressive power, bone-crushing action, and gladiator-like legend. The helmet has grown into a leading and essential brand vehicle for professional teams, and the league as a whole. As a device that's worn by every player on every down, the function of the football helmet has the unique potential to profoundly impact players and fans—and shape the future of the game.

Areas of Design Neglect
Despite slow and steady design innovation over many decades, helmet manufacturers are yet to eliminate several basic functionality problems, likely due to outdated league policies and/or manufacturing cost limitations.
• Body of the helmet isn't integrated well with the form of the archaic wire facemasks
• External snap-on chin straps are clumsy and visually distracting (and often fail during game play)
• Undesirable overall weight continues to add discomfort over long periods of time
• Team branding options are limited to basic paint finishes, topical graphic decals, and limited accent options
• Although not neglected, concussion safety is and will continue to be a challenge for decades to come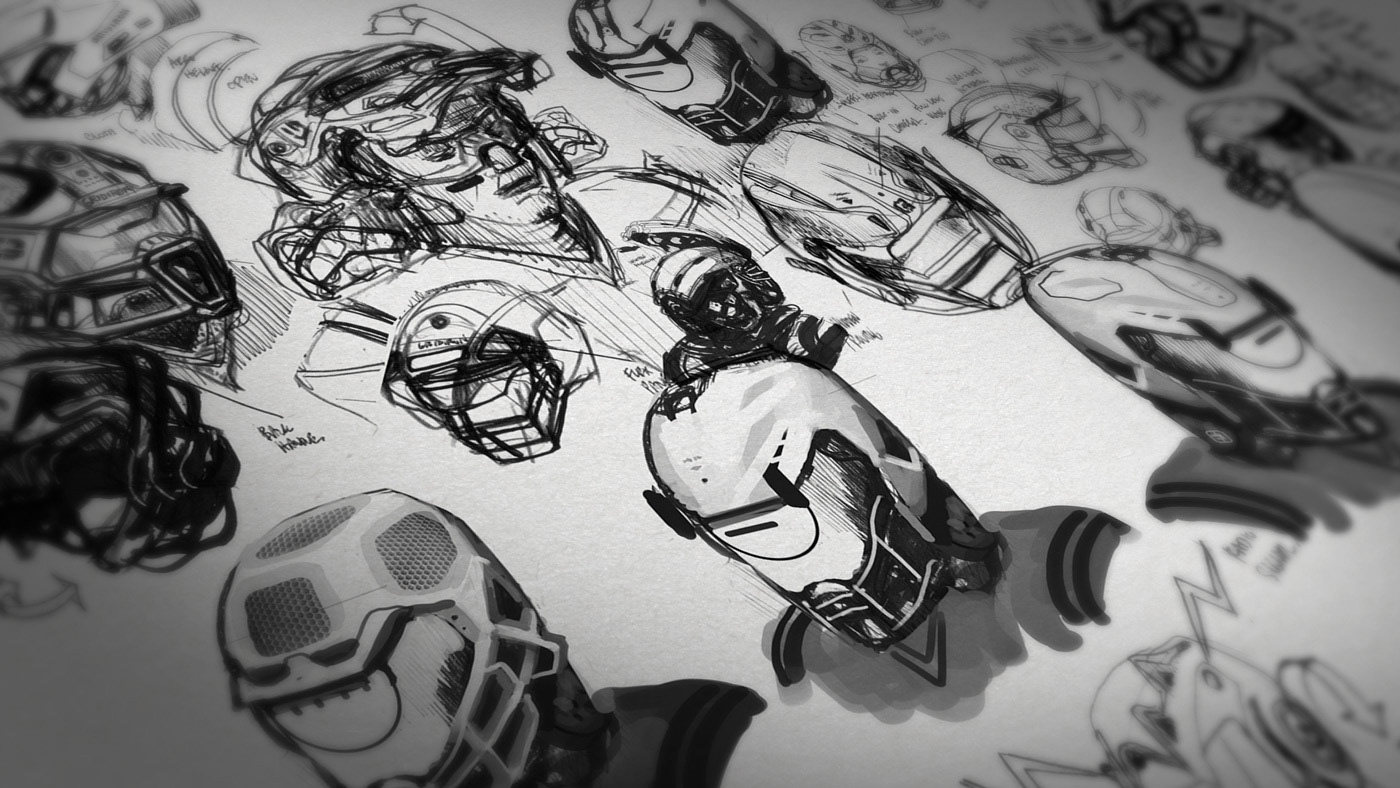 Evolved Form Design
Our design case study represents what we believe is a fairly realistic forecast of how the industry may react to these opportunities.
Our case study was imagined with true-to-life manufacturing processes in mind, allowing us to create a modern aesthetic that will be feasible in the near future—and doesn't compromise some of the sacred, iconic aesthetics that players and fans cherish.
• More accelerated, directional form language
• Molded facemask designs with sophisticated surface & material changes
• Chin strap attachments feed inside helmet—eliminating distracting snaps & buckles
• More strategic venting to allow for airflow through the helmet.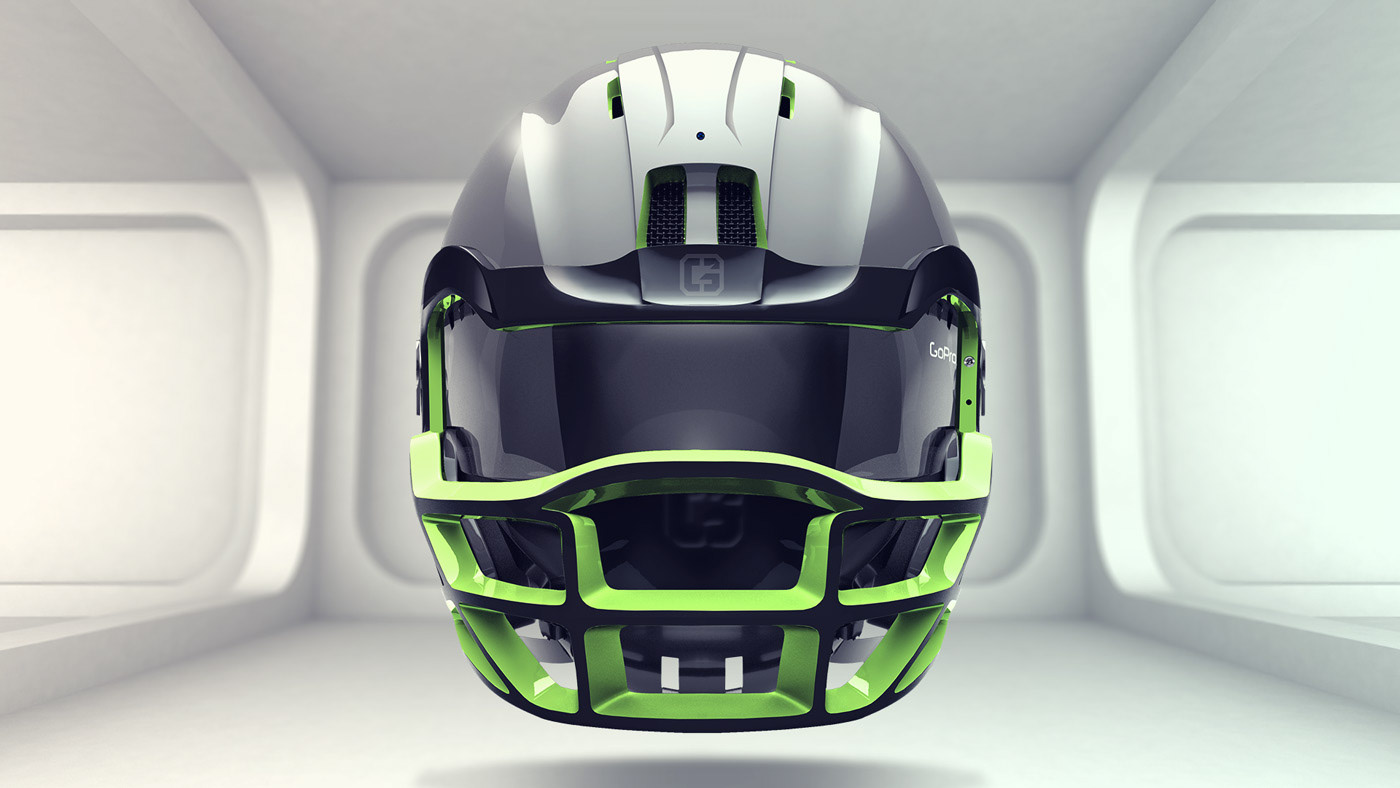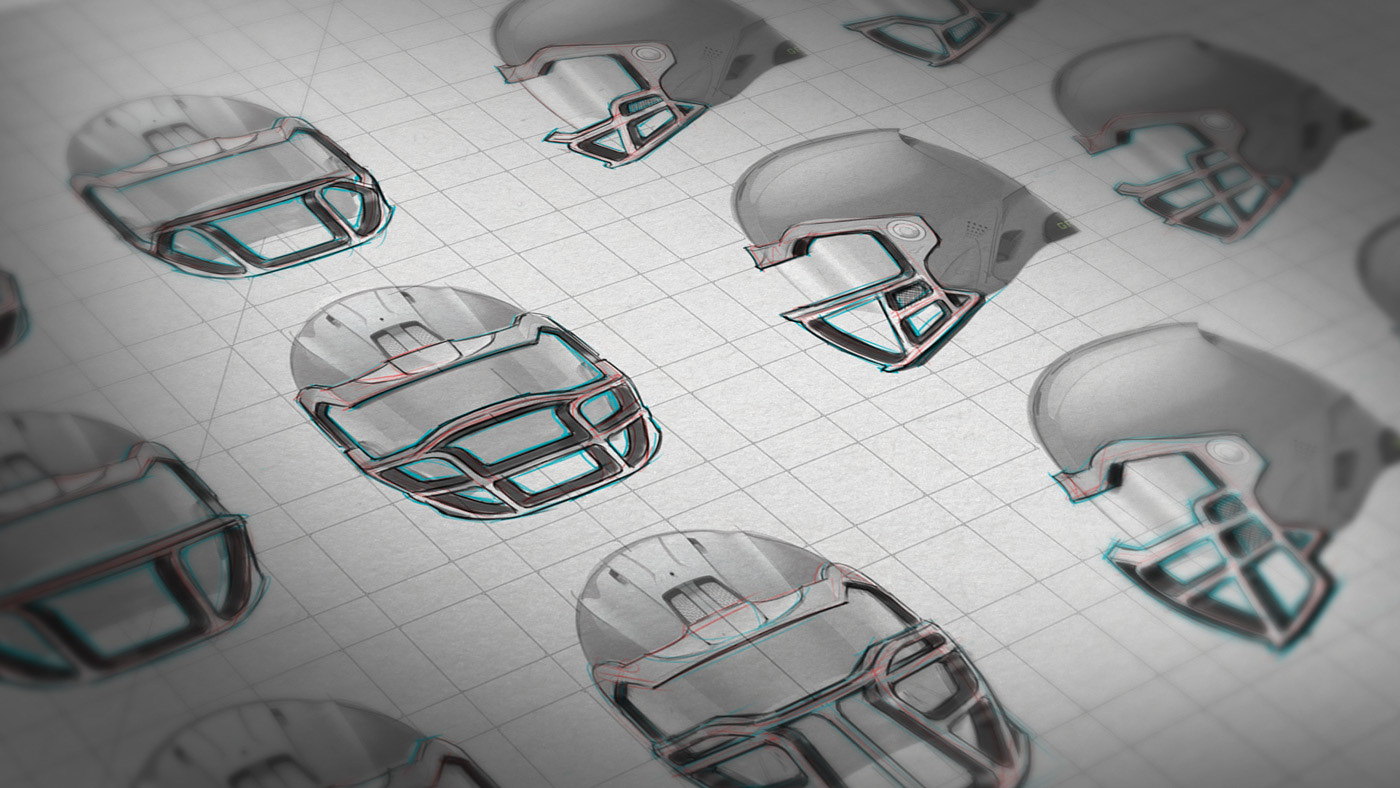 The Ultimate Wearable Device
As the ultimate wearable device, the football helmet will further elevate player performance by integrating connectivity.
• Embedded impact sensors that alert trainers and coaches about on field collisions
• Heads up display (HUD) facemask visors
• On-board cameras (front & rear) to capture the game from every angle
Heads Up Display
Heads up displays (HUDs) are becoming a standard already. In the next 10-15 years they'll be even more usable and commonplace. 
HUDs can help players elevate their game through augmented reality, real-time game data, and personal health performance. We imagine tasteful, unobtrusive HUD scenarios that compliment the game and player actions on the field.
• Play call information (play, count, route, etc.)
• Situational game data (score bug, etc.)
• Physical Health/Performance (O2 levels, heart rate, etc.)
• Player matchup analysis and more
HUD Example: WR Play & Route Analysis
HUD Example: WR Opponent Matchup
Onboard HD Cameras
Capturing the game from a pro football player's point of view will offer one of the most exhilarating views in sports.
Premium, real-time footage could help gamify the live experience by putting the control in the hands of  broadcasters, analysts, and fans alike. Companies like GoPro are on the move to make more compact, rattle-proof cameras that can be embedded almost anywhere, unseen. Capabilities might include:
• HD compact cameras embedded into the front and rear of the helmet surface
• Cameras activate automatically and stream media through the cloud
• Fans see through the eyes of any player on the field, from home or their mobile device
• Instant replay & analysis from any player's perspective
Performance, Comfort & Safety
We imagine protection and comfort working in harmony with more thoughtful safety & fitting features, and manufacturing with "wonder materials" that offer more strength than kevlar, at a fraction of the weight.
• Lock & release, retractable facemask with more peripheral range of vision
• Improved helmet fit due to form-fitting clamshell design
• Auto-fastening, inner feed chin strap with locking engagement
• Exterior sound control technology to mitigate crowd noise and amplify selective on-field sound
• Improved, shatter-proof HUD visor to provide visibility and protection
• Programmable viscoelastic materials that increase impact absorption for concussions
• Parts made from high-strength, lightweight materials like Graphene or Nanocellulose.
The Uniform Arms Race
Recent trends and advances in graphic application technology combined with the sports brand movement from "Goliaths" like Nike have birthed an "arms race" of uniform brand trends. 
College football programs throughout the country attempt to outdo each other with a host of flashy, campaign-driven helmet & uniform combinations. Even the more conservative NFL has begun to adopt vibrant, new Color Rush uniforms– not to mention new helmet textures and paint finishes. So, where do we go from here?
Disclaimer
: All product names, logos, and brands are property of their respective owners. All company, product and service names used in this case study are for identification purposes only, and conceptual in nature. Use of these names, logos, and brands does not imply endorsement or association with this concept, or each other.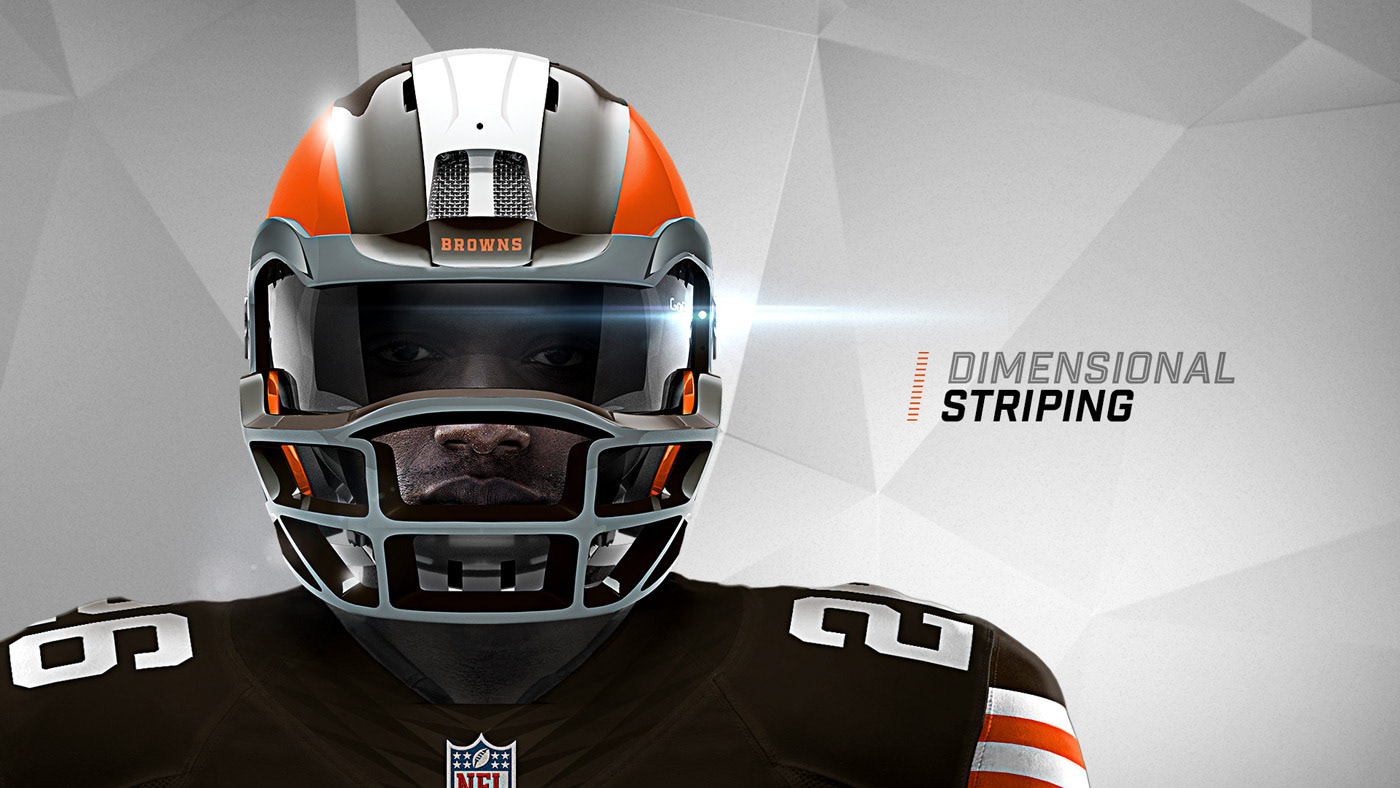 Digital Display Helmet Shell
Brand elements will spring to life using formable, shatter-proof digital display technology to enable animated media and motion graphics on the helmet surface.
• Animated team logos, colors, and patterns
• Graphic & color scheme changes, on-the-fly
• Display partner/sponsor brands & advertising on the helmet during broadcasts
• Reflect fan interactions (like crowd noise, team chants, etc.)
• Player-specific, event based motion graphics (i.e. a player catches fire)
• React to game events and player achievements (1st downs, touchdowns, sacks)
• Express player personalities and personal brands (i.e. Richard Sherman, J.J. Watt)
Conclusion
The advent of technology and design offer exciting new opportunities to improve the game of professional football in a myriad of ways—from the performance of players to experience of fans to (ultimately) the success of the league. As we move into the future, Gridiron Labs sees the helmet as a tremendous untapped resource—with the ability to greatly shape the future of the game, if given the chance.
Disclaimer
: All product names, logos, and brands are property of their respective owners. All company, product and service names used in this case study are for identification purposes only, and conceptual in nature. Use of these names, logos, and brands does not imply endorsement or association with this concept, or each other.